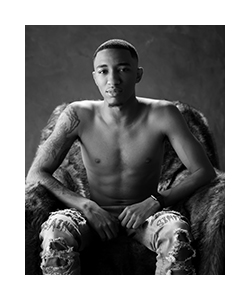 Mazio's mother booked him into a Soulmarks session in the hope it would boost his self esteem and allow him to see himself in a more positive light.  Stephanie accompanied Mazio for the portrait shoot and , as so often happened with a Soulmarks session, she  got swept up in the infectious joy and spontaneity of the moment.
Tragically Mazio's life was taken not a year after this session.  The Soulmarks Art from that poignant day remains an eternal tribute to the vigor, essence, and soul of this remarkable young man..  The Soulmarks Foundation was able to gift to his family a collection of this art.  Thankfully his own young family will always have a collection of him as he would have wanted to be remembered; as a pillar of strength and a beacon of love.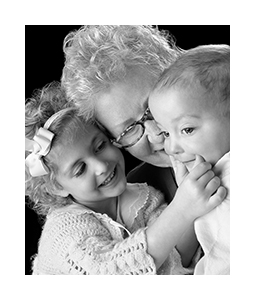 Jeanie shares an enduring bond with the Soulmarks Foundation. This portrait, which so beautifully captures her surrounded by her great-grandchildren, was an unexpected gem during a training session for the Joe Craig's international artists. As students looked on, she had expected for the camera to focus only on her precious little ones. But the Soulmarks session flowed naturally in another direction, drawing her into the frame and capturing the magic of their love and connection.
When Jeanie later saw the masterpiece, her reaction was an authentic testament to the emotional depth of her Soulmarks journey. Knowing Jeanie means understanding the essence of 'Live, Laugh, Love, and Leave a Legacy'. Through this portrait, she has done precisely that.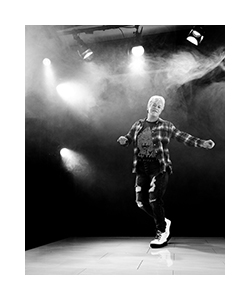 Michelle sought a RAPT session at the Soulmarks Centre, wishing to revisit the cherished  feelings of her childhood when her mother would bring her to the studio for birthday portraits.
The art evoked such powerful emotions in her that she invested in her RAPT art collection. She intends to display some of these pieces prominently during her work-related video conferences, hoping that through them, her colleagues might catch a glimpse of her true self.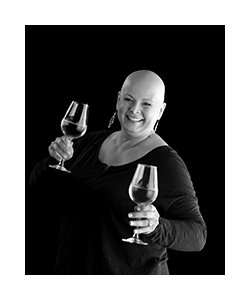 Despite battling her illness and undergoing treatment, Lori's spirit remained undiminished, embracing life with the same fervor as always. As she walked into her Soulmarks session joyfully hand in hand with her husband, it wasn't a somber occasion but a radiant celebration of life. This is a testament to the power of a Soulmarks Portrait – it has the ability to capture the profound essence of an individual, beyond the confines of their physical condition.
LISTEN TO LORI TELL HER STORY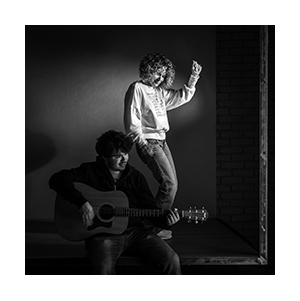 Lina visited the Soulmarks Centre, hoping to get a portrait that genuinely captured her son, Sam. Joe inquired about Sam's passions, to which Sam indicated his guitar case. When asked about any other hobbies, Sam once again gestured towards the same case.
As Joe had Sam strum his guitar as he captured his portraits, Lina watched, tears forming in her eyes, "Do you know how good it feels to see your child do what he loves?" she whispered.
Moved by the moment, Joe encouraged Lina to dance to Sam's tune. Their synchronized expressions in the resulting portrait beautifully showcase the timeless connection  between a mother and child.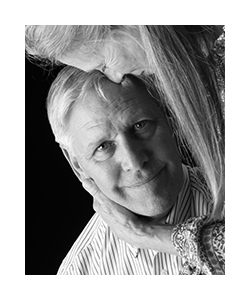 On a seemingly ordinary day, David and Melinda Zimmer visited the Soulmarks Centre, seeking advice for a business venture. Joe was there, mentoring a group of eager students and seeing an opportunity, he invited them to model for the class, if only for a brief moment.
The Soulmarks Centre is a place where magic can spark in an instant. As David and Melinda locked eyes, a connection surged between them, leading them to what they would later recount as one of the most deeply moving moments in their enduring marital journey.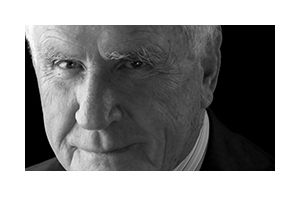 Don Schula, recognized as the NFL's most successful head coach, was persuaded by his wife to have a portrait session with Joe during their vacation. Although not accustomed to letting go of control, Don sat patiently for Joe, who approached him with the same respect he shows all his clients.
Upon reviewing his set of images, Don immediately said to Joe, "Play it again." After watching the slideshow a second time, he remarked, "The first time, I saw them as mere photographs. But on the second viewing, I realised that are not about photography, are they not, Joe?" Joe responded, "They can represent whatever you see in them, Coach. But I like to think of it as capturing one's essence."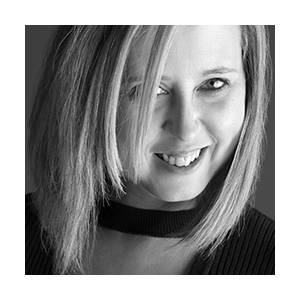 Vickie had once been photographed by Joe during her senior year in the 80s. After nearly three decades, a chance meeting brought them together again. With raw emotion, Vickie recounted a heartrending story from her past: just before her senior photo session, the weight of bullying had driven her to contemplate ending her own life. However, before she did she chose to honor the portrait session for her parents' sake.
But what was meant to be a Senior photography session with Joe became a turning point for her. Through Joe's genuine warmth and respect, she felt valued and regained some of her lost self-esteem. It was this transformative experience that inspired her to choose life. Her story serves as a poignant reminder that by treating everyone with kindness and respect, we might unknowingly make a significant positive impact on their lives.
LISTEN TO VICKIE TELL HER STORY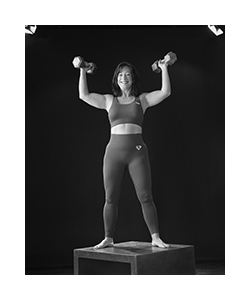 Carolyn's journey has been nothing short of transformative. From the critical role she played in the operating rooms as an anesthetist nurse, to the selfless role of a mother, always putting her family's needs above hers, Carolyn has worn many hats.
However, beneath these roles, there was always a person who needed to address her own well-being. The past has a way of tethering us all, emotions from events long gone but not forgotten, holding us back in the present.
Recognizing this, she embarked on a physical and mental odyssey. Not just workouts and diets, but a deeper introspection into the shackles of her past. This journey wasn't just about building muscle, but about constructing a strength in spirit, strong enough to confront and be at ease with the past.
Attending the RAPT session was another step towards understanding and perhaps, healing. Her nervousness wasn't from fear of judgment but from the uncertainty of confronting her reflection, both literal and metaphorical.
Carolyn's image inspires many who look at it – not just because of the physical strength it portrays but because it echoes a universal story of overcoming, of transformation, and of resilience