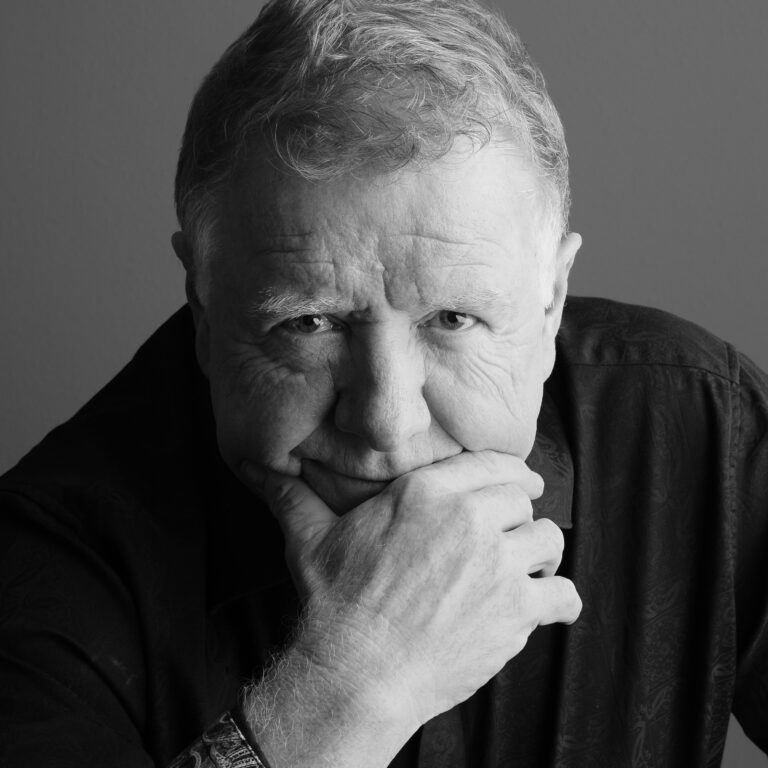 A portraitist of international acclaim, Soulmarks Founder Joe Craig JOE CRAIG'S PROFESSIONAL PASSION AND ARTISTIC VISION HAVE MADE HIM A HOUSEHOLD NAME AMONG CLIENTS AND PHOTOGRAPHERS ON FOUR CONTINENTS. HIS INSTINCTIVE TALENT AND MAGNETIC CHARISMA KEEP JOE CRAIG IN GREAT DEMAND AS AN ARTIST, PHOTOGRAPHIC CONSULTANT AND LECTURER AROUND THE GLOBE.
Clients confront his camera with remarkable ease and rare trust; within minutes, he knows their inner workings, fears, and dreams. The results of this rapport are intelligent portraits that transcend the usual clichés to speak volumes about personal character and the resiliency of the human spirit.
Embark on a journey to uncover the photographers and artists who have profoundly shaped and ignited the artistic passion of Joe Craig. Delve into the works that have left an indelible impression on his creative spirit, inspiring his unique approach and vision. From the masters of the past to contemporary luminaries, the influences that have touched Joe Craig's artistry are waiting to be explored and appreciated. Join us as we celebrate the artistic tapestry woven by the hands of these remarkable individuals, whose brilliance continues to resonate within the captivating works of Joe Craig.
VIRGIL AND VANGIE PARKER PERHAPS HAVE PLAYED THE MOST IMPORTANT VIRGIL AND VANGIE PARKER PERHAPS HAVE PLAYED THE MOST IMPORTANT VIRGIL AND VANGIE PARKER PERHAPS HAVE PLAYED THE MOST IMPORTANTVIRGIL AND VANGIE PARKER PERHAPS HAVE PLAYED THE MOST IMPORTANTVIRGIL AND VANGIE PARKER PERHAPS HAVE PLAYED THE MOST IMPORTANTVIRGIL AND VANGIE PARKER PERHAPS HAVE PLAYED THE MOST IMPORTANTVIRGIL AND VANGIE PARKER PERHAPS HAVE PLAYED THE MOST IMPORTANT
VIRGIL AND VANGIE PARKER PERHAPS HAVE PLAYED THE MOST IMPORTANT VIRGIL AND VANGIE PARKER PERHAPS HAVE PLAYED THE MOST IMPORTANT VIRGIL AND VANGIE PARKER PERHAPS HAVE PLAYED THE MOST IMPORTANTVIRGIL AND VANGIE PARKER PERHAPS HAVE PLAYED THE MOST IMPORTANTVIRGIL AND VANGIE PARKER PERHAPS HAVE PLAYED THE MOST IMPORTANTVIRGIL AND VANGIE PARKER PERHAPS HAVE PLAYED THE MOST IMPORTANTVIRGIL AND VANGIE PARKER PERHAPS HAVE PLAYED THE MOST IMPORTANT
VIRGIL AND VANGIE PARKER PERHAPS HAVE PLAYED THE MOST IMPORTANT VIRGIL AND VANGIE PARKER PERHAPS HAVE PLAYED THE MOST IMPORTANT VIRGIL AND VANGIE PARKER PERHAPS HAVE PLAYED THE MOST IMPORTANTVIRGIL AND VANGIE PARKER PERHAPS HAVE PLAYED THE MOST IMPORTANTVIRGIL AND VANGIE PARKER PERHAPS HAVE PLAYED THE MOST IMPORTANTVIRGIL AND VANGIE PARKER PERHAPS HAVE PLAYED THE MOST IMPORTANTVIRGIL AND VANGIE PARKER PERHAPS HAVE PLAYED THE MOST IMPORTANT